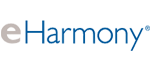 eHarmony Review
One of the Web's foremost sites for dating.

BACKGROUND

eHarmony.com is a dating site that happens to be the number one dating site for singles. eHarmony uses a scientific approach to dating that includes its 29 Dimensions of Compatibility relationship questionnaire model to match all couples. The site has been able to match thousands of couples based on this proprietary process. Each of the more than 20 million registered users are required to take the test when registering with the site.
eHarmony heralds the fact that they are not a traditional dating site and that they match couples in lasting and fulfilling relationships. eHarmony is open to singles of every age, race and religious background. eHarmony also has some other segmented sites for those who are looking for a mate that shares your background or beliefs such as Christian Dating, Black Dating, Jewish Dating and Senior Dating.
A survey conducted in 2007 shows that 2% of all marriages in the United States met and were matched through eHarmony.com. There are members of eHarmony.com in all of the 50 states and there are four easy steps to finding the right match.
Your first step is to complete your relationship questionnaire. From that questionnaire you will receive a free personality profile. Next, review your compatible matches for free. The third step is to pick the plan that works for you when you find you're ready to communicate with some of your matches. Lastly, you get acquainted with your matches at your own pace. Once you're ready, you start dating.
Some of the benefits of using eHarmony versus other dating sites include your profile and photos being private and only available to your deeply compatible matches, anonymous communication and other members not being able to browse your profile. There are several success stories available from those who have been matched and married through the eHarmony.com web site. After ten years, eHarmony states that they are the only web site still matching people based on what works.

Visit the official site for eHarmony

PRO

- Matches made based on 29 Dimensions of Compatibility
- Responsible for 2% of all US marriages
- Personal information is kept private
- Matches are given to you, saving you the time of searching them
- All matches are prescreened
- View your matches for free
- Communicate anonymously and at your own pace
- #1 trusted online dating site
- Several success stories
- More than 20 million members
- Web site is well respected among dating sites

CON

- No data available on divorce rate among eHarmony marriages
- All compatibility depends on everyone answering their questionnaire honestly
- Registration is a lengthy process
- Difficult to find pricing info
- All of your matches are provided by eHarmony, unable to search for them on your own


FEATURES

The feature that is most talked about with eHarmony is the 29 Dimensions of Compatibility Questionnaire. This is what is used to identify all of the people you will be matched with. There are 29 areas that are scientifically proven to predict relationship success. Another key feature is the personality profile you receive after taking the questionnaire. This is a report designed to help you understand yourself better.
eHarmony also offers communication tools that allow you to take things slowly or talk openly and anonymously with your matches through the eHarmony mail system.
The last feature is the eHarmony matching model. This is a feature that finds singles for you that are deeply compatible rather than having you search through the profiles
yourself.

Common Misspellings

eharmoni, e-harmony, eharmany