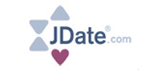 JDate Review
Where Jewish singles find love.
BACKGROUND
JDate.com is the leading matching making site on the net for Jewish men and women. JDate touts itself as the premier and undisputed leader in Jewish dating. JDate was established in 1997 as a modern way for Jewish singles to find love. JDate offers members events to attend and travel adventures for an affordable monthly rate. JDate offers a full support staff for help in finding that perfect mate. JDate was the first online personals site from Spark Networks. Many other sites have been launched by Spark Networks due to the success of JDate. JDate offers a great avenue for Jewish singles to find love, friends or just get with other Jewish singles for events and trips.

PRO
- Affordable
- Payment info available prior to signing up
- High success rate
- Thousands of Jewish members
- Parties and Travel events

CON
- Exclusive to those of the Jewish faith
- No background checks conducted

FEATURES
- Your Click – quick way to meet members you think you'd click with
- Search – enter the characteristics you're looking for and find matches
- Instant messaging – talk to other members while you're online
- Message Boards – share your views and connect with other members
- E-cards – send greetings to those in and outside of the JDate community

CONCLUSION
If you are of the Jewish faith and have had trouble finding potential mates that share your religious views, JDate might bring you the mate you're looking for. As the largest online dating community for Jewish singles, JDate gives you access to thousands of people. Join today and see what you've been missing. Give yourself a chance to interact with members in your area by attending the parties and travel events that JDate organizes for its members. Why wait another day when you could be hooked up with your soul mate in a matter of minutes?